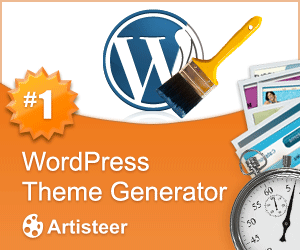 If you have ever created a WordPress blog then you know how tough it can be finding the perfect theme for your blog.  The good news is that there are a ton of free wordpress themes to choose from.  But most of the time those wordpress themes are over used and it really sucks to be surfing around the web and find the exactly same theme on someone else's web site.
So what do you do then?  Well, most people will turn to premium themes.  They aren't too terribly expensive and most of the time they come with a ton of features.  The only problem is that premium themes can be just as bad as the free themes.  They are over used and EVERYWHERE.
So the only other alternative is to find someone to make a custom wordpress theme just for your blog.  Easy said then done though.  If you've ever tried to get a custom theme made you it can be pretty expensive, ranging into the thousands of dollars!!  Not good.
Wouldn't it be great to find an easy way to make custom themes without having to pay for custom design work? Well believe it or not there is some software that can do this exact thing.  It's called Artisteer.
I've been playing around with Artisteer for a little while and I want to tell you it is really handy to have around.   I really love this little guy and with it you can quickly build a custom WordPress theme with just a few simple clicks.  Most every element in the theme is customizable, from button types, font types, colors, headers, even a bit of flash for that extra pizazz.
Check out the demo on there site here.
What is really cool about Artisteer beyond helping you creat your own custome WordPress themes is how much money you can make with Artisteer.
Here are a few example of ways to make money with Artisteer:
Offline Consulting – If you do any offline consulting this will be a godsend.  You can create a half dozen different designs in minutes to show your client.
Create a Product – Are you looking for a new product to promote or sell?  How about creating a set of PLR wordpress themes?  People love it.  Last year I created free Christmas themes and will be doing it again this year.
Build an email list – Again I did this last year and gave away a bunch of themes, all folks had to do was sign up to my list.  They were happy to do it!
Done-for-you websites – Create PLR websites and sell them as a product
Flip Websites – Quckly create custom sites and flip them on Flippa.
I'm sure once you check out Artisteer you will find your own ways to profit from it.  And if you don't want to use it to make money.. hey, you have got some really killer looking custom themes on your blog that no one else has.
Check it out – I think you will be surprised how easy it is to make money with Artisteer!